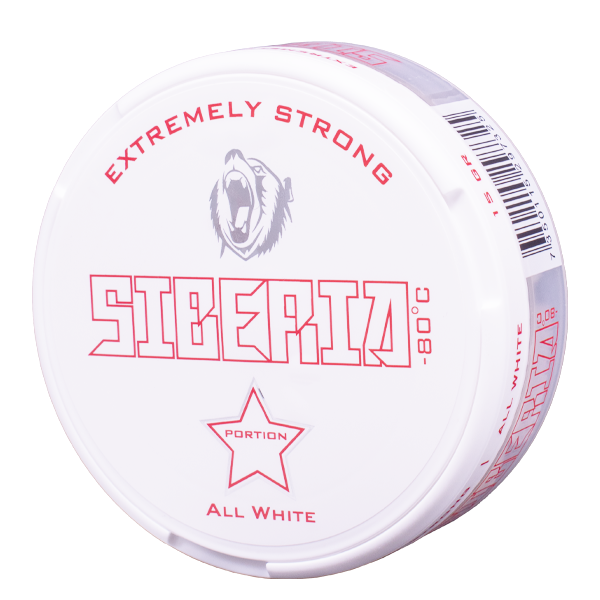 You may have already spotted Siberia for sale in our online shop, or wondered if you are able to buy Siberia snus in Ireland. In this article, we go through what makes this super-famous and popular nicotine pouch popular, and how you can get it delivered to your door.
Introduction to Siberia snus in Ireland
Siberia started in Sweden as a brand of GN Tobacco, which is one of the largest manufacturers of Swedish snus. Swedish snus is different from the nicotine pouches available for purchase in the EU and Ireland, as it contains tobacco. You can read more on this distinction in our article.
As a manufacturer of snus, Siberia expanded vastly in popularity among Swedes as well as other Scandinavians, including Finns and Danes. High-profile athletes, including footballers and rally drivers in Sweden took a liking to this specific brand, which in turn caused it to expand in popularity.
What makes Siberia special?
Besides its popularity and well-known brand name, there are several factors which distinguish Siberia nicotine pouches from others. Firstly, the vast strength of these pouches is a hallmark of the brand. Siberia nicotine pouches are exceptionally strong, going up to 43 milligrams of nicotine per gram. Compared to other evergreen popular brands like Killa or Velo – which pack a punch of 16-24 milligrams of nicotine per gram – we see that Siberia's nicotine content is even higher. Furthermore, due to the fast-absorbing design and recipe of these pouches, the nicotine content could be argued to feel even higher due to the superb nicotine buzz they give the user.
Besides immense strength, Siberia nicotine pouches are also renowned for excellent quality. As these pouches are made in Sweden by a very experienced snus manufacturer, the makers of this pouch have managed to perfect their craft over decades of snus making. In this sense, they have utilized their skillset in manufacturing Swedish snus and applied this to tobacco-free snus.
Lastly, Siberia is known for its chic aesthetic, which recalls the Soviet Union and association with subarctic temperatures in the Siberian tundra. This association is a homage to the brainfreeze feeling which is common with super-strong pouches giving off a powerful buzz.
What Flavors are available?
Siberia, unlike other manufacturers like Killa or Iceberg, is not focused on creating different flavors but rather on maintaining its position as a high-quality super-strong pouch. Siberia's main product is tobacco-containing snus, which is available in many different flavors. However, these smokeless tobacco products can only be legally purchased in Sweden and are not available anywhere in the EU, including Ireland. At the moment, the flavors of Siberia nicotine pouches are limited to the classic flavor, which thankfully is available all over the EU.
How to buy Siberia Nicopods in Ireland
At the moment, in order to buy tobacco-free Siberia nicopods in Ireland, the options are limited. However, there are still ways in which the user can find Siberia nicotine pouches.
You can look for Siberia nicotine pouches at vape shops or retail outlets. You may, however, find that it is sold at very expensive rates. Alternatively, you might find the selection to be very small.
You can search for Siberia snus in Ireland or Siberia nicotine pouches in Ireland on social media networks. You might find social media websites linking to online shops that sell them.
You could also try to go for an online retailer straight away.