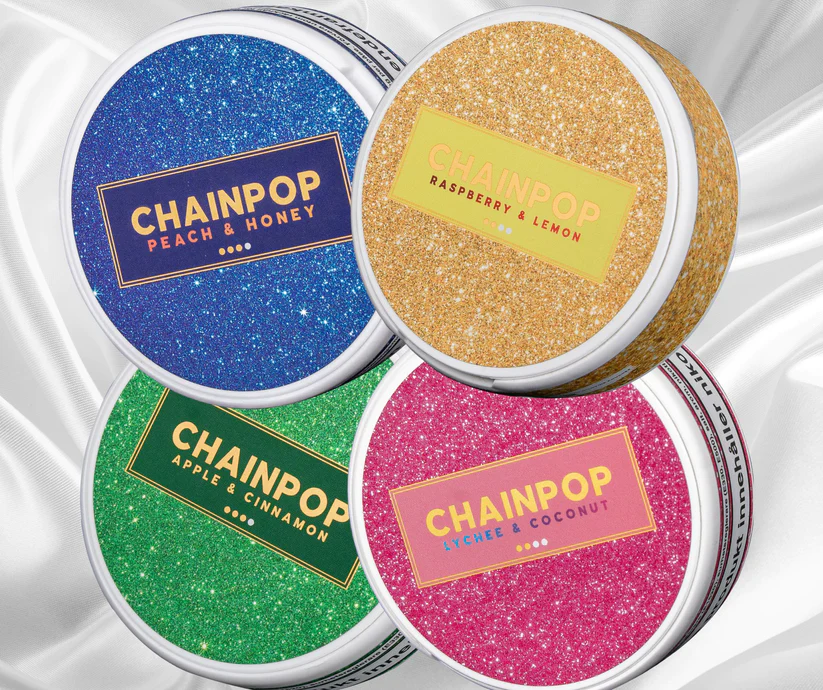 Step into the world of glamour, luxury and indulgence with Chainpop premium Swedish nicopods, now available in Ireland. Designed for the discerning connoisseur who knows how to party, these nicotine pouches redefine your nightlife experience, and they are now available in Ireland!
What makes Chainpop Nicopods special?
The Glittering Touch of Luxury: Chainpop arrives in Ireland with a bang, sporting the most glamorous and glittery packaging that's perfect for the nightclub or yacht setting. These pouches are not just a product; they are a statement of style, sophistication, and the taste of the high life.
Crafted in the Heart of Swedish Excellence: Chainpop nicotine pouches hail from the land of innovation, Sweden, renowned for its expertise in crafting premium tobacco alternatives. With a rich heritage in producing top-quality nicotine pouches, the Swedish touch is embedded in every pouch, making Chainpop a truly premium product. The meticulous attention to detail and commitment to quality that characterizes Swedish manufacturing sets these pouches apart, ensuring that every experience is nothing short of extraordinary. When you choose Chainpop, you're embracing the tradition of Swedish excellence, where sophistication, luxury, and top-tier quality converge to create an unparalleled nightlife accessory.
What Flavors are Available?
Four Exquisite "Cocktail" Flavors: For those who appreciate the finer things in life, Chainpop offers a range of four unique "cocktail" flavors, each a burst of indulgence in itself:
Apple & Cinnamon: A tantalizing fusion of sweet apple and warm cinnamon, the perfect balance of fruity and spicy notes.
Peach & Honey: Embrace the sweetness of ripe peaches with a hint of golden honey, an exquisite blend that ignites the senses.
Raspberry & Lemon: A zesty symphony of tangy raspberries and the freshness of lemon – it's like a summer breeze in every pouch.
Lychee & Coconut: Transport yourself to a tropical paradise with the luscious combination of lychee and creamy coconut.
Your Night, Your Way: Experienced Swedish manufacturers have carefully crafted Chainpop nicotine pouche to provide a mild and smooth nicotine experience. They have designed them for those looking for an alternative to smoking or vaping without the overpowering strength. Whether you're mingling on the dance floor, relaxing in a VIP lounge, or cruising on a yacht, these pouches offer a discreet and convenient way to enjoy nicotine without the fuss of traditional tobacco or e-cigarettes.
Get Chainpop Nicopods in Ireland
Chasing the Night, Not Health Benefits: Let's be clear – Chainpop nicotine pouches are all about enjoying your night to the fullest. We don't claim health benefits or advocate for nicotine use. These pouches are meant for responsible, adult enjoyment, and you should use them in moderation.
We still strongly advise people to look into quitting nicotine altogether. To do this, we recommend you familiarize yourself with the HSE's resources.
The Chainpop Experience Awaits You: Prepare to immerse yourself in the glittering world of Chainpop nicotine pouches. Elevate your nightlife experience with the four sumptuous "cocktail" flavors that will leave your taste buds tingling and your night unforgettable.
Join the league of those who know how to party in style. Get ready to pop, party, and savor the night with Chainpop – now available in Ireland. Enjoy the essence of luxury, one pouch at a time. Your night, your way!