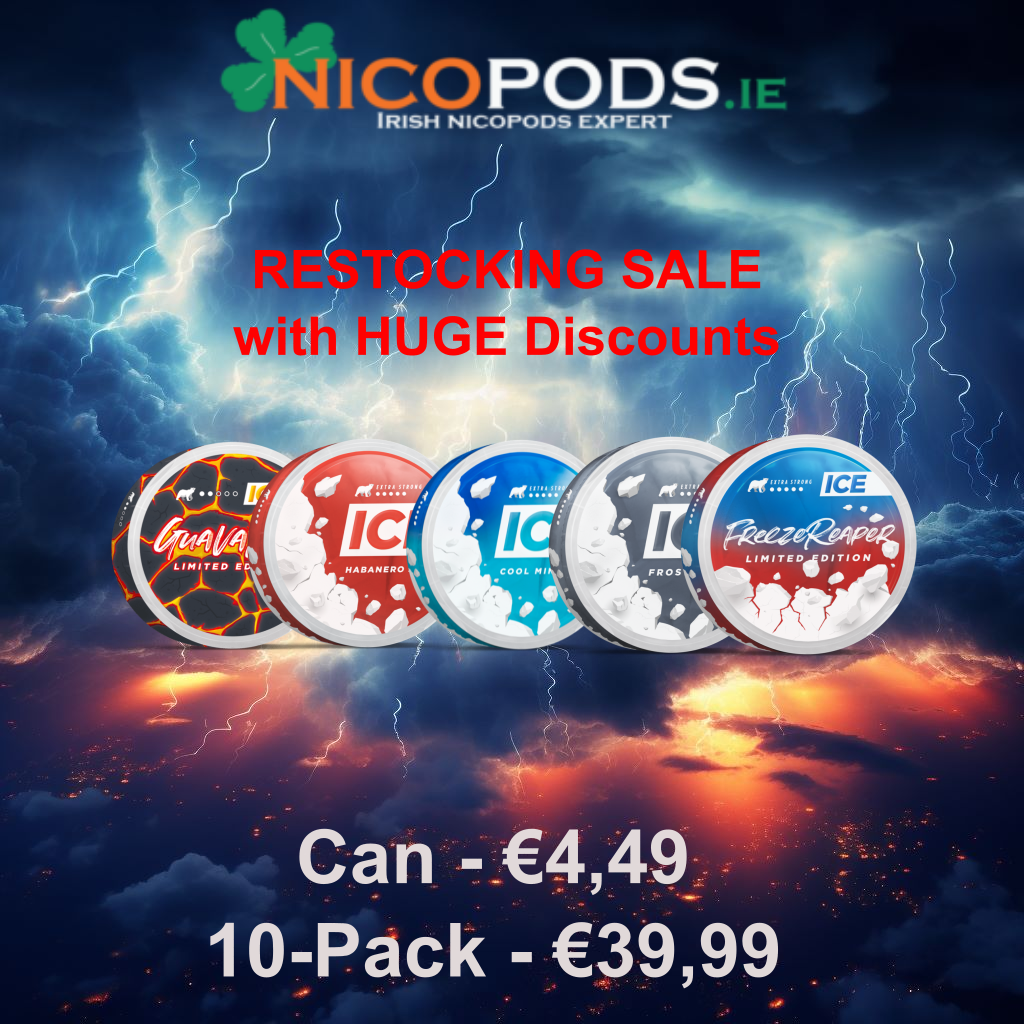 Stay Cool with Icepouch
The summer heat is on and people are looking for great products with even better prices. Are you flying somewhere on holiday and worried about the impossibility of using nicotine in planes and hotels? Not to worry, Nicopods.ie presents the solution to you at an unprecedented price! We offer up to 50% discount at our restocking sale, on all Icepouch products!
Our yearly restocking sale coincides with the summer, so you will be able to get your hands on premium Icelandic nicotine pouches from the superb manufacturer Icepouch. These pouches are cheaper than anywhere at Nicopods.ie, and you can get them delivered to your door.
Available Flavors at Restocking Sale
As Ireland's leading online nicotine pouch retailer, Nicopods.ie always boasts a vast selection of flavors and strengths. Our restocking sale is no different. When you go into our online store, you will find such popular and innovative flavors as Habanero, Freeze Reaper, Frost and Cool Mint. Besides these flavors, the fruity Guava Lava is another unique flavor introduced by Icepouch.
What makes Icepouch a unique brand of nicotine pouches is the extremely high quality of materials used, which translates to a clean and stable nicotine buzz. That makes these pouches suitable for more experienced users as well as smokers or vapers looking for a smoke-free alternative!
How to Order Icepouch Nicopods
Ordering nicotine pouches has never been as simple as it is with Nicopods.ie. Simply add the products you would like to order your shopping cart, choose your shipping method and make payment. The products will be dispatched promptly as per our Delivery Conditions and delivered safely by our courier partners. Our expected delivery time with Standard or Tracked Shipping is as low as 1-3 days.
At Nicopods.ie, we believe in safe payment processing which is why we use secured payments with Viva Wallet. We are also committed to sustainability, which is why we use recycled matter in our packaging and do not print unnecessary materials.