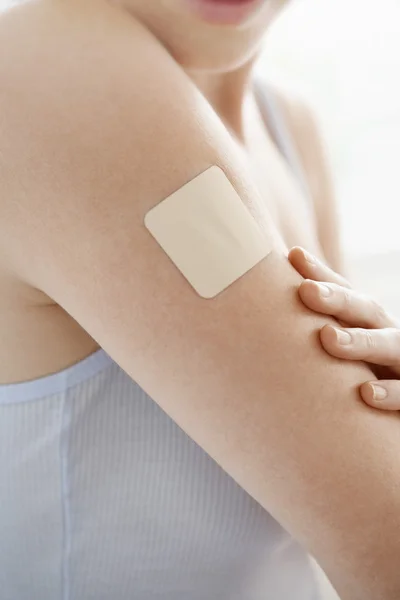 The nicotine patch is surely familiar to everyone who has ever planned to quit smoking. Nicotine patches entered the market in the early 1990s. How nicotine patches help in quitting smoking and many other questions can be found in this article. We also seek to discern between nicotine pouches and nicotine patches.
Nicotine patches to help quit smoking
The nicotine patch is one of the oldest nicotine replacement therapy products, along with nicotine gum. Typically, nicotine patches can be purchased in Ireland from pharmacies. Nicotine patches are easy to use and unnoticeable, but due to the slow absorption of nicotine, quitting smoking with nicotine patches is more challenging than with e.g. nicotine pouches.
In cigarettes, nicotine pouches and snus, the nicotine is absorbed quickly, while in a nicotine patch, it is absorbed very slowly. The amount of nicotine in the bloodstream is small, but constant throughout the day. When smoking, the amount of nicotine in the bloodstream rises and falls quickly.
How does the nicotine patch work?
In the nicotine patch, nicotine is absorbed from the depot patch through the skin into the bloodstream and thus helps with nicotine withdrawal symptoms that occur when quitting smoking.
Instructions for use of the nicotine patch
Nicotine patches are sold in different strengths and for different periods of use. Depending on how much you normally smoke, you may start using either a 21mg nicotine patch or a 14mg nicotine patch. For most, it is recommended to start with a stronger nicotine patch.
The use of the nicotine patch is started with a stronger one and the strength is reduced as the need for nicotine decreases. After three months of use, you should be completely nicotine free.
Normally, the nicotine patch is placed on the hip, chest, back or hand. It is not recommended to put the nicotine patch twice in the same place. Using the same area is more likely to cause skin symptoms.
Nicotine patch disadvantages
With nicotine patches, as with many other nicotine replacement therapy products, attempts to quit smoking often fail due to annoying side effects. Although the side effects are often small or even imagined, it may give the quitter a reason to return to smoking.
-Nicotine is slowly absorbed from the nicotine patch
-Difficulty sleeping
-Skin symptoms
The biggest disadvantage of the nicotine patch is the slow absorption of nicotine. The nicotine concentration in the blood reaches its peak in about eight hours. Compared to other nicotine replacement therapy products, nicotine patches are much less effective in helping with tobacco cravings, precisely because of this.
Advantages of the nicotine patch
The nicotine patch may not be the best help for quitting smoking, but there are good aspects to this product.
-Nicotine patches are really unnoticeable.
-Using the nicotine patch is easy.
-Long-lasting. One nicotine patch is used throughout the waking hours.